Our Company
Greetings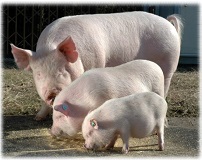 We have developed and bred the world's smallest-class mass-produced laboratory/biomaterial pig. Our Microminipigs are mainly used in universities and research institutes for in-vivo effectiveness evaluation of medical applications. In order to make it possible to conduct the effectiveness evaluation by a small number of subjects, we also distribute thymectomized Microminipigs with induced immunity suppression through complete made-to-order production. Arteriosclerosis models made through feeding management are also available. With our Micropimipig, we will strive to support the development of novel medical applications from Japan.
Company Overview
Name:
Fuji Micra, Inc.
Foundation:
October 10, 2007
Capital:
78,000,000JPY
Board Members:

President / Noriaki Satake
Chairman / Yasushi Kuwahara
Director / Kazutomo Sakamoto
Director / Takashi Fujimoto
Auditor / Masanori Okazaki
Auditor / Syozo Fujita


Headquarter:
260-1 Miyahara, Fujinomiya, Shizuoka 418-0005 JAPAN
TEL:
+81-(0)50-3557-6775
Farm Location:
Fuji-Kawaguchiko-cho, Minamitsuru-gun, Yamanashi
Name
Fuji Micra, Inc.
Foundation:
October 10, 2007
Capital:
78,000,000JPY
Board Members:
Noriaki Satake / President
Yasushi Kuwahara / Chairman
Kazutomo Sakamoto / Director
Takashi Fujimoto / Director
Masanori Okazaki / Auditor
Syozo Fujita / Auditor

Headquarter:
260-1 Miyahara, Fujinomiya, Shizuoka 418-0005 JAPAN
TEL:
+81-(0)50-3557-6775
Farm Location:
Fuji-Kawaguchiko-cho, Minamitsuru-gun, Yamanashi