What is Microminipig?
It is a unique laboratory pig developed by our company. It is
small
and
can be handled in a dog cage
with
a weight of less than 10kg
and
a body length of less than 80cm
at 6 months of age. The breed has been fixed in
breeding in Japan
from a small potbelly strain as its origin and maintained its closed flock since 2009. It has 8 SLA gene types and can be offered in white and colored bodies (i.e. silver, black and amber) [color reservation possible].
Growth of Microminipig
An average 6-month-old Microminipig weighs under 10kg and even a
2-year-old one weighs about 25kg.It is super-compact compared to
regular pigs.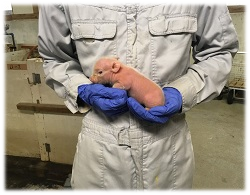 0 month old/approx. 0.3kg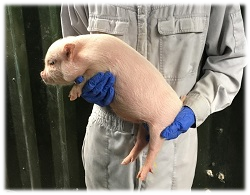 2 months old/approx. 4kg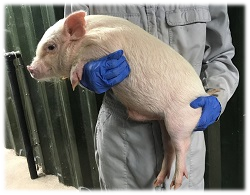 4 months old/approx. 6kg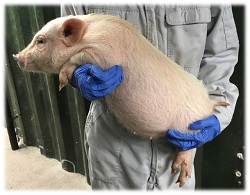 6 months old/approx. 9kg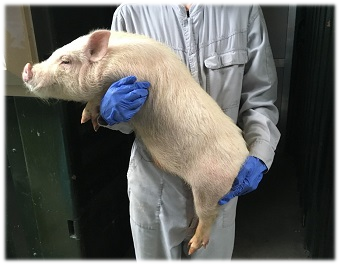 1 year old/approx. 15kg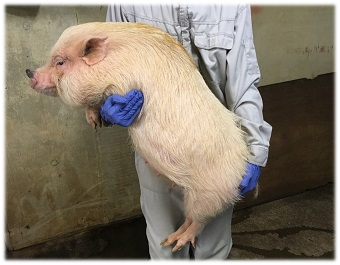 2 years old/approx. 25kg
Growth curve of Microminipig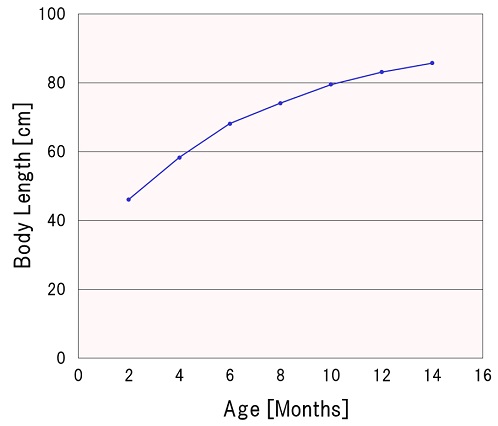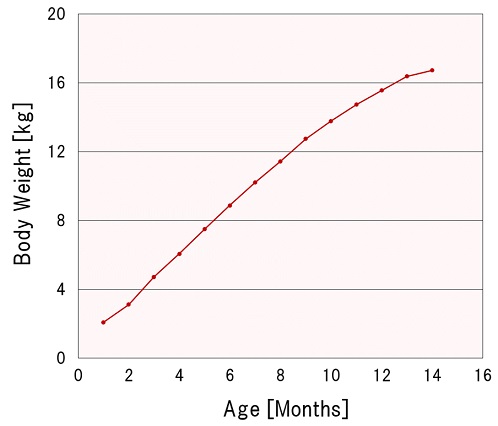 Available Grades
Our company deals with two grades of Microminipigs.
For how to purchase,
click here.
Conventional Grade
Bred in isolation environment based on our own monitoring standards
Vaccinated on Mycoplasma disease
Clean Grade
(Made-to-Order Production)
Born by caesarean section, reared by human hand, and bred in a dedicated facility
Immuno-suppressed model by thymectomy is also available
Made-to-Order Production
Immuno-suppressed Microminipig
Microminipig with induced immunity suppression by

surgical removal of thymus gland.

Because it is not a transgenic animal, it

can be handled in regular laboratory settings.

Clean grade animal fully nursed by human hands.
Immuno-suppressed Microminipig (PDF)
Various Disease Model
Arteriosclerosis Microminipig
Arteriosclerosis model realized by management of controlled feeding.
Feeding management during the experiment period can be contracted to our farm.
Please consult us for other disease models.
Other Services
We can provide organs and other body parts of Microminipig on demand.
We also provide practical skills, handling support, and lectures on how to handle Microminipig.
We also sell original feed (dedicated for Microminipig) jointly developed with Nisshin Marubeni Feed Co., Ltd.
Reference Document: